After Northstar Financial Services (Bermuda)'s bankruptcy and liquidation all but ensured significant losses for investors, including the risk of losing one's entire investment in Northstar Financial or its related products, regulators with the SEC formally charged Gregory Lindberg and Christopher Herwig, along with Standard Advisory Services Limited, with fraud, alleging the defendants with defrauding clients out of more than $75 million.
Over the past few years, Northstar Financial has been tied to entities including Global Bankers and gathered many of its representatives and other staff from firms such as ERG Securities and Sun Life Financial.
Investors who lost money investing in doomed Northstar Financial products or related offerings, such as the Global Advantage family of funds including Global Investment Plan, Global Variable Annuity, and Global VIP, or the Met Group Variable Deferred Annuity or Met Universal Life offerings may be entitled to damages if their brokers or investment advisers at FINRA-approved firms unsuitably recommended or sold these products to retail investors despite their significant risk.
Interestingly, another firm's liquidation in Bermuda—Omnia Limited—provides us with a glimpse into additional product plans offered by Northstar that may have been both harmful and unsuitable for retail investors. Some were offered only as fixed and indexed, while others were variable investments or offered as both fixed and variable. They include: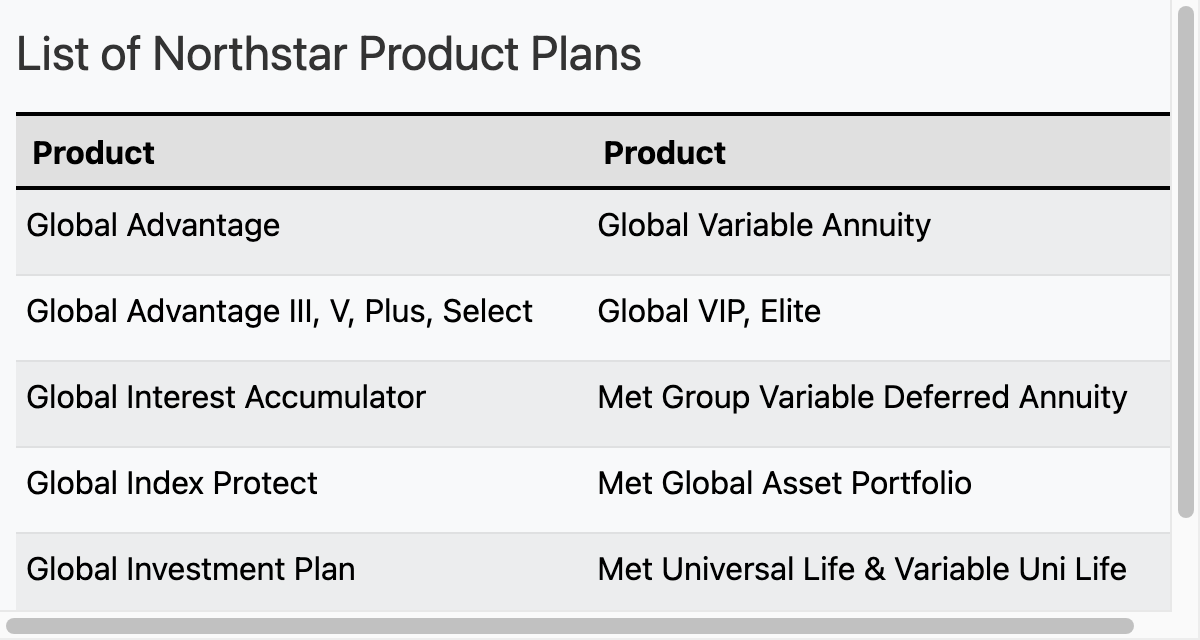 Some firms that sold Northstar Financial (Bermuda) investment options include Bankoh Investment Services, Cetera Investment Services, Hancock Whitney Investment Services, JP Morgan Securities, Ocean Financial Services, Raymond James Financial Services, Suntrust Investment Services aka Truist Financial Corporation, and Unionbanc Investment Services.
What creates additional potential liability for these firms and/or brokers who sold Northstar is Northstar's own website warning that its products may be unlawful to be sold or marketed within the United States, which would make these recommendations not just unsuitable, but illegal as well.
If you invested with Northstar or a related product with a broker or firm whose unsuitable recommendations have proven harmful to your investments or interests, please call an experienced FINRA arbitration attorney at The Law Offices of Jonathan W. Evans & Associates at (800) 699-1881 for an investigation and consultation.